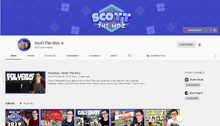 The Scott The Woz YouTube channel is the YouTube channel where the Scott The Woz series, among other things, are uploaded. The channel is run by Scott Wozniak. The channel was made in 2012, however, the first public video was uploaded in July of 2016. Prior to July of 2016, many videos were uploaded on the channel, all of which have been made private.
The Scott The Woz series is the main series on the channel, having over 150 episodes, the first episode was uploaded on January 7, 2017, and was entitled Nintendo Switch Wish List. The series mainly focuses on video gaming retrospectives.
WIP
WIP
There are only 2 videos on his channel with a like to dislike ratio lower than 90%, which are FIRST TIME VAPE SHOP VISIT! - VLOG and Episode 22: Ranking the Final Smashes. This is likely because both the videos are somewhat controversial.
An official GIF page containing GIFs from the channel were added in early 2018 on Tenor.
A channel on YouTube can add "Channel Tags" to their channel to make it easier for people to find their channel, the Scott The Woz YouTube channel's Channel Tags are "Nintendo", "PlayStation", "Wii U", "Nintendo Switch", "Nintendo Reaction", "Nintendo Review", "Gaming", "Video Game Review", "Video Game Comedy", "PlayStation 4", "PlayStation Vita", "Mario", "Zelda", "Pokemon", "Pikmin", "Metroid", and "Animal Crossing".
The first video uploaded to the channel was a "review" of Call of Duty: Black Ops II. The video has since been made private along with the other pre-July 2016 videos. The video was later re-uploaded on Scott's Stash.
Community content is available under
CC-BY-SA
unless otherwise noted.