Where the Climax Buffs Roam, Waterville, Ohio, United States of America, better known as Old Location McGee,[1] is the former main setting of the Scott The Woz series, being used in episode 1-69. It was later replaced by New Location McGee. It was also the main location for most WozniakNewsTV videos.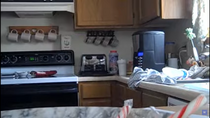 The kitchen of the house can only be found in WozniakNewsTV videos, the kitchen (like most other) has a fridge, oven, and sink. The fridge has been seen plastered with images, papers, etc.
In Game Compilations Compilation, Scott Wozniak wanted to make s'mores due to it soon being "Summer P.M." while talking about game compilations. He exited the house during the video for some reason but forgot to turn off the s'mores machine, which resulted in the house "burning down".
Community content is available under
CC-BY-SA
unless otherwise noted.