Madden NFL 08 (Exaggeration) (often referred to as just Madden 08 (alias also stylized as Madden '08)) is a sports and Madden 08 game, it's the 19th entry in the Madden NFL Football video game series by EA Sports, the game was developed by EA Tiburon and Exient Entertainment and published by EA Sports for the Nintendo Gamecube, Nintendo DS, Xbox, Xbox 360, Nintendo Wii, PlayStation 2, PlayStation 3, PlayStation Portable, PC, Macintosh, and Nintendo Switch.[1]
Madden NFL 08 appears in almost every episode of Scott The Woz, both physically and as a running gag. Scott Wozniak is mad in love with the game and disrespects everyone who loves another Madden, up until A Very Madden 08 Christmas. He is also seen to have most of the versions of the game.
This section is in need of a rewrite.
It was first seen in Scott Wozniak's delight of people's discussions on the Madden game series. Only one copy of the game survived Scott Wozniak's unexpected teleportation to a Dick Vitale's "Awesome, Baby!" College Hoops-centric continuum, as a result of being in Wozniak's space-time-continuum-proof bag.
Following Wozniak's protest on Dick Vitale and house arrest, he's greeted by three worshippers of the game. Realizing their obsession for it, he shows his Madden NFL 08 copy, which they find extraterrestrial, and brings it with him during his battle with the Supreme Leader inside the Genesis Mech. 
In the aftermath of the fight, Wozniak's copy of the game falls out of the mech and lands on a bucket of goo, which, in turn, turns the game into a mech, which starts another battle against the Genesis Mech. It is then halted with Wozniak throwing his copy as a projectile to detonate the Genesis Mech, further causing it to teleport Wozniak and the Supreme Leader, revealed to be RelaxAlax, to the next continuum. The new timeline wipes the game out of existence. Wozniak, winning a sweepstakes (as announced by Sweepstakes Winner Announcery Jim), discusses his plans to make Madden NFL 08 for its original platforms, and how a remake is further planned.
The box art for the game features Vince Young in a Tennessee Titans uniform holding a football on a white background with a ridge with the game's logo along with the EA Sports logo above it.
Vince Young speaks to Scott Wozniak through the Mac cover of Madden 08 in Episode 150: It's a Bargain Bin Christmas.

The Spanish box art for the game is different from other countries and regions, instead of featuring Vince Young, it features Luis Castillo and the same logo layout as other country's box art.
Madden NFL 08 was included in EA Sports 08 Collection, a collection of sports games made by EA Sports in 2007. There is supposedly also an HD remake of the game, but it's unknown if it's released or not.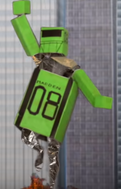 The Madden NFL 08 cyborg (simply known as the Madden 08 cyborg), is a mech piloted by Scott Wozniak in It's Awesome Baby! in order to fight the Genesis Mech (piloted by the Supreme Leader). The cyborg is light-green (resembling the main color associated with The Clacks) and has the text "Madden 08" on it in bold. It was created by being dropped into a goo that turns items into cyborgs.
Thurman Braxton a.k.a. Madden 08 - he is described as the main character of Madden NFL 08 according to Scott Wozniak, his goal is to avoid all numbers lower and higher than 08 while running over to the other side.
John Madden - John Madden (or simply Madden) is the "main focus" of the Madden NFL Football series, including Madden 08, the players can ask him for advice during a match and according to Scott Wozniak, he can be unlocked as a playable character.
Audience - the audience can be seen in the background of every match played in Madden 08, they don't do anything in terms of gameplay and are only used as decoration.
Hidden Valley - a custom character made in the MyMadden portion of the game, he is known for having the stiffest arm in the county.
LaMont Jordan - according to Scott Wozniak Jordan is a roadblock and one of the most iconic antagonists in all media.
WIP
Character
Position
Role
Team
Number
Note(s)
Thurman Braxton
"Main Character"
The Clacks
87
08

?

Also known as Madden 08
Audience
Background characters
John Madden
Advice giver, player
Unlockable

?

Hidden Valley
Strong safety
Custom character
The Clacks
Kansas City Chiefs

*

94
LaMont Jordan
Halfback
"Antagonist/roadblock"

?

Oakland Raiders
34
"Iconic"

?

Dominic Rhodes
Minor "roadblock"
Michael Bush
Minor "roadblock"
Justin Griffith
Fullback
Minor "roadblock"
Zack Crockett
Minor "roadblock"
Ronald Curry
Wide receiver
Minor "roadblock"
Jerry Porter
Minor "roadblock"
Travis Taylor
Minor "roadblock"
Doug Gabriel
Minor "roadblock"
Johnnie Lee Higgins
Minor "roadblock"
Mike Williams
Minor "roadblock"
Zach Miller
Tightend
Minor "roadblock"
John Madsen
Minor "roadblock"
Tony Stewart
Minor "roadblock"
Jake Grove
Offensive line
Minor "roadblock"
Barry Sims
Minor "roadblock"
Jeremy Newberry
Minor "roadblock"
Cooper Carlisle
Minor "roadblock"
Robert Gallery
Minor "roadblock"
Kevin Boothe
Minor "roadblock"
Paul McQuistan
Minor "roadblock"
Cornell Green
Minor "roadblock"
Mario Henderson
Minor "roadblock"
Ben Claxton
Minor "roadblock"
Derrick Burgess
Defensive line
Minor "roadblock"
Warren Sapp
Minor "roadblock"
Terdell Sands
Minor "roadblock"
Tommy Kelly
Minor "roadblock"
Tyler Brayton
Minor "roadblock"
Quentin Moses
Minor "roadblock"
Anttaj Hawthorne
Minor "roadblock"
Kirk Morrison
Linebacker
Minor "roadblock"
Thomas Howard
Minor "roadblock"
Sam Williams
Minor "roadblock"
Robert Thomas
Minor "roadblock"
Ricky Brown
Minor "roadblock"
Isaiah Ekejiuba
Minor "roadblock"
Nnamdi Asomugha
Cornerback
Minor "roadblock"
Fabian Washington
Minor "roadblock"
Duane Starks
Minor "roadblock"
John Bowie
Minor "roadblock"
Stanford Routt
Minor "roadblock"
Chris Carr
Minor "roadblock"
Michael Huff
Safetie
Minor "roadblock"
Stuart Schweigert
Minor "roadblock"
Jarrod Cooper
Minor "roadblock"
Darnell Bing
Minor "roadblock"
Eric Frampton
Minor "roadblock"
Sebastian Janikowski
Kicker
Minor "roadblock"
Shane Lechler
Punter
Minor "roadblock"
Matt Leinart
Quarterback
Player
Arizona Cardinals
Kurt Warner
Player
Larry Fitzgerald
Wide receiver
Player
Anquan Boldin
Player
Bryant Johnson
Player
Steve Breaston
Player
LeRon McCoy
Player
Sean Morey
Player
Michael Spurlock
Player
Edgerrin James
Halfback
Player
Marcel Shipp
Player
J.J. Arrington
Player
Terrelle Smith
Fullback
Player
Leonard Pope
Tightend
Player
Ben Patrick
Player
Tim Euhus
Player
Reggie Wells
Offensive line
Player
Levi Brown
Player
Qasim Mitchell
Player
Oliver Ross
Player
Deuce Lutui
Player
AI Johnson
Player
Elton Brown
Player
Mike Gandy
Player
Brandon Gorin
Player
Nick Leckey
Player
Bertrand Berry
Defensive line
Player
Chike Okeafor
Player
Darnell Dockett
Player
Alan Branch
Player
Gabe Watson
Player
Rodney Bailey
Player
Joe Tafoya
Player
Jonathan Lewis
Player
Antonio Smith
Player
Community content is available under
CC-BY-SA
unless otherwise noted.